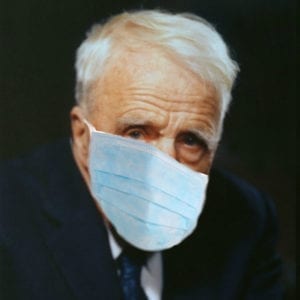 The Frost Place is closely monitoring the Coronavirus (COVID-19) situation. Our top priority remains the health, safety, and well-being of our community. The situation is changing rapidly, and we will keep you updated. Feel free to email us with any questions.
March, 2021 UPDATE
Dear Visitors,
The museum and barn will remain closed due to the Covid-19 global pandemic, at least through the spring and summer months. The trails and grounds are open to the public, as long as strict precautions are taken and social distancing requirements are met. Visiting the front porch of the house and enjoying the gorgeous view is something that we welcome you to do as well. Please share photos with us! We miss our friends and neighbors, and we definitely miss making new friends as well.
Our programs and readings will be virtual again this year, and we hope you will be able to join us for some of our online events. Applications to the programs are available through the website.
Please check back frequently for announcements about readings, workshops, and other special presentations. You can subscribe to our daily blog, follow us on Facebook and Instagram, and you can check our Calendar of Events on the website as well for updates.
Please know, your safety is our primary concern. When we are able to open to the public, we will make an announcement across all of our social media platforms. In the meantime, please come and enjoy the view. Please continue to treasure the legacy of Robert Frost; if you are able to make a donation towards the upkeep of the house and grounds, we truly would appreciate it.
Thank you for your continuing support and good will during this difficult time.
The Frost Place Staff and Board of Directors