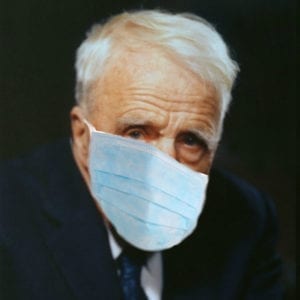 The Frost Place is closely monitoring the Coronavirus (COVID-19) situation. Our top priority remains the health, safety, and well-being of our community. The summer programs and museum opening are far enough in the future that we continue to plan and accept applications normally. The situation is changing rapidly, and we will keep you updated.Feel free to email us with any questions.
WRITING PROMPT #2 3/12/2020
MEN WALK ON MOON AND DRIFT INTO LOVE 
A love poem prompt by Assistant to the Director Jacob Rivers
1. Find a news headline unrelated to celebrity gossip or click bait (think scientific or world news) and use this as the title of your love poem.
2. Write one synesthetic(1) line that interacts with the news heading.  This will be the last line of the poem.  
3. The body should be free verse. Avoid second-person ambiguity and use real names. The "I"  of the speaker should be present at least in one line. 
(1) syn·es·the·sia  
 noun
the production of a sense impression relating to one sense or part of the body by stimulation of another sense or part of the body.
Self-Realization 
Allan Peterson
The instances I itemize could be
believable as life
if they could just move fast enough
On paper they stay alive
In their stillness Then in the window
appeared a figure made of leaves
a woman and wisteria
a double exposure parts merging perfectly
and when I stood I too entered into the very kiss I pictured
First appeared in Post Road #35
WRITING PROMPT #1 3/16/2020
Patrick Donnelly's "The Person I Can No Longer Speak To" Exercise
1. Choose a poem title from among the ones below.
2. Write a poem with that title addressed to a person you can no longer speak to for any reason.
3. Include in your poem: at least one figure of speech (simile, metaphor, trope, analogy, or    personification); at least one sensual specific (language that evokes an experience of one or more of the five senses).
4. There are projects in which there seems to reside an inherent undertow toward sentimentality, and this is one! Here are some counter-influences to sentimentality that you can try: acerbity, pungency, tartness, dryness, wit, irony, humor, sarcasm, understatement, distance, coldness, sangfroid, syntactical interest and elegance, formal or intellectual rigor, precision and specificity, freshness and surprise, weirdness, strangeness, uncanniness, grotesquerie, disorder or even messiness, darkness, danger, risk, cost, duende, emotional heat, urgency, passion, obsessive attraction or attention, acknowledgement of real vulnerability, embarrassment, character flaws or complicity with injustice, ambivalence, incertitude, doubt and ambiguity.
On New Year's Day
On a Morning Glory
Waiting for Someone Near Chrysanthemums in Bloom
A Toast
O What Is That Sound
At the Grave of Emily Dickinson
The Capital
Some Final Words
Where I Live
Stone Pit
To a Fallen Elm
No Shame
The Next Life
Reincarnation
Snakebite
Bread
The Anniversary
Fleamarket
Lullaby
Mowing
The Traitor
Afterwards
Appetite
Migration
The Wall
Charmed
April Fools' Day
A Kind of Goodbye
Purgatory
Hide and Seek
After Dark
The Opposite House
Hatchling
Pupil
A Downward Look
Island
Flight Lounge
The Great Wheel
Stillborn
Mirror
Lull
The Task
A Better Answer
Dregs
Meeting at Night
Strange Meeting
The Return
A Decade
When You Are Old
The Minimal
Piano
Unconscious
The Gift
Tourists
Facing It
Casualty
The Wild Edge
A Blessing
Talking in Bed
Science Fiction
Alloy
Captivity
Eating Alone
The Surface
The War Ending
Descending Figure
Detour
The Reception
Timer
The Cast Off
Hanging Fire
Cut
White Center
The Word
We Have Been Here Before
Sisyphus
The Sequel
Night Thought
Monsoon
The Missing Person
Lying Awake
A Lost World
Fireworks
Destroying Angel
Dead Center
The Choice
Avalanche