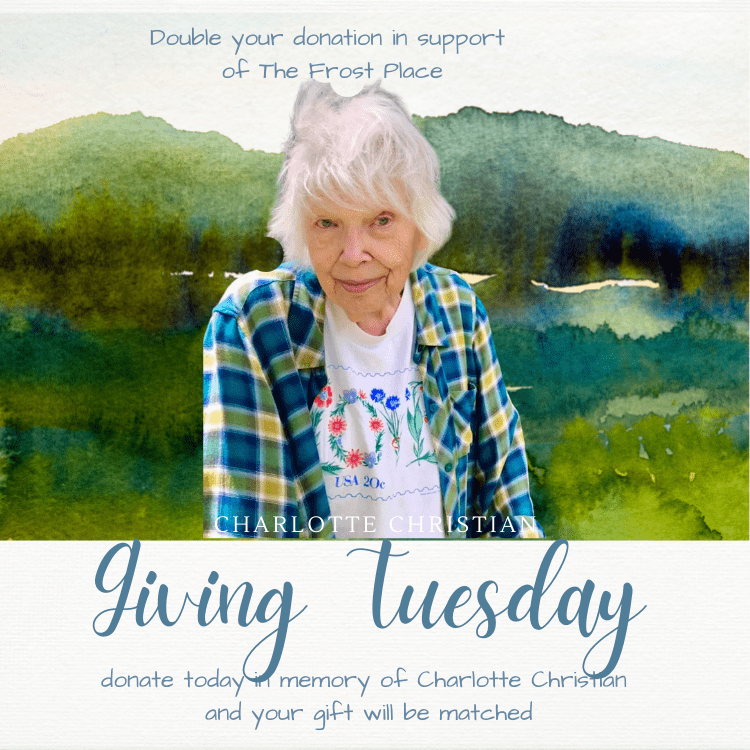 Dear Friends of The Frost Place,
I would like to match up to $5000, contributed by the end of this year, December 31, 2021. My hope is to encourage Frost Place supporters to give and then I'll match it!
My mother Charlotte was a huge reader of poetry throughout her life. When she was in the hospital in Portsmouth during what turned out to be her final illness, what she wanted most was her beloved book of the Best of English Poets.
She came by it honestly, as her great-uncle was John Bartlett, the oldest and dearest friend of Robert Frost. When Frost lived in Derry (my hometown), he and John used to walk all over town botanizing and discussing everything under the sun. Mom's cousin, Mary Bartlett Anderson, wrote a book called The Record of a Friendship, based on the letters Frost wrote to John. Charlotte also enjoyed the book Leslie Lee Francis wrote called The Frost Family's Adventure in Poetry: Sheer Morning Gladness at the Brim.
Some of my mother's favorite Frost poems were "Birches" and "My November Guest." Not only was she a Frost fan, but also of poetry of all sorts. She loved "Evangeline" and "The Chambered Nautilus."
I hope that you will accept this "challenge!"
All the best,
Alice Christian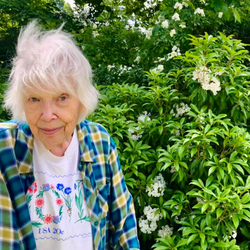 Listen to Maudelle Driskel read Birches