A Day at the Seminar
The Poetry Seminar Becomes an Online Experience in 2020:
Because the coronavirus pandemic has interrupted many people's summer planning, we have redesigned the Poetry Seminar as an online experience, which will take place August 2 – 7. To participate, you'll access the events via Zoom, a free videoconferencing platform. One benefit to holding the Seminar online, is that you'll be able to take part from anywhere in the world, without incurring any travel costs! As well, the cost of the Seminar will be reduced, so this is a rare opportunity.
As always, you'll have access to instruction from our world-class faculty, focused attention on your work, and the vital exchanges of peers in workshop. Our goal is to support, refresh, and inspire you.
How You'll Take Part in the Seminar:
You'll need a computer with a camera and high-speed internet. You'll download the free Zoom app, then use the links we provide to join each event. We'll provide clear instructions, and a staff member will be available to troubleshoot tech issues with you.
About the Seminar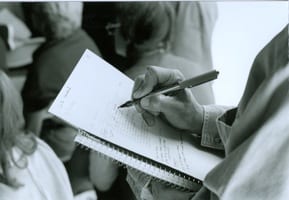 If you've attended the Seminar before, no need to worry that we're going to cover the same material, because the craft focus and presentations change every year. So come on back this year!
Spend five days with a select community of poets exploring your artistic work in the context of a rich variety of poetry ancestors and contemporaries.
Discover how poetic lineages and community can provide models, provocations and correctives to widen your thinking about your own efforts.
Learn from a distinguished and accomplished faculty how poets choose, imitate, enter into dialogue with, and sometimes argue with the work of our poetic ancestors and contemporaries.
The Seminar schedule features a daily presentation/discussion exploring aspects of craft and technique, an afternoon workshop of participants' poems or individual, virtual meetings with faculty, and an evening reading, some by faculty poets and others featuring participants.
Tuition
| | | |
| --- | --- | --- |
| Seminar Tuition | $600 | |
| Seminar Day Rate | $125 | |
| | | |
MFA, and Senior discounts are available.
Individual Meetings with Faculty
Participants will schedule one-on-one meetings with their workshop leader to occur on the last day of the Seminar. Participants may use this time to discuss two poems not covered in the workshop, and/or to discuss the workshop poems in greater detail.
Workshops
Seminar participants will be divided evenly for workshops between the three workshop faculty, and will remain with the same faculty member for all five days. We anticipate that each workshop will have 5 – 7 people; each participant will have the opportunity to workshop four poems. You'll have the option to say which of the three faculty members you'd like to work with, but we prefer that you trust us to make the match.