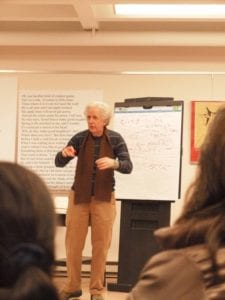 Talking About Frost
Evening discussions with poet Baron Wormser
Come one, Come all!
This series, hosted at the Abbie Greenleaf Library in Franconia, NH is free and open to the public.
Every first Tuesday through May, Baron Wormser, acclaimed poet, author and professor, will lead a discussion on a selected poem by Robert Frost.  Frost's poetry, though accessible to all on the first reading, reveals much upon further study.  Come share and deepen your knowledge of Frost.
Discussions begin at 7:00 p.m. and are scheduled through 8:30 p.m.
February 5th "Mending Wall"
March 5th "An Old Man's Winter Night"
April 2nd "The Most of It"
May 7th "Directive"