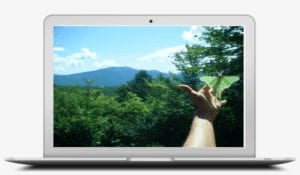 The coronavirus pandemic has led many people to rethink their summer plans and so we have redesigned the Conference on Poetry as an online experience. But our values are still the same: joyful companionship, rigorous compassion, and an emphasis on the craft of poetry.
We'll start most days around noon Eastern / 9:00 a.m. Pacific with the White Mountain Cafe, a chance for participants to bring breakfast/brunch/lunch to the screen and chat with fellow participants and faculty in small groups.
Early in the conference day, faculty and guests will offer Generative and Regenerative class sessions, including guided poetry prompts and writing exercises, meditations, and practices connecting the body, mind, and spirit.
You'll meet for three of our six days with your Workshop, a group of up to nine other poets, to discuss the crafting and strategy of poems. At some point during the week, you'll also have a One-on-One Meeting with your faculty workshop leader.
After an afternoon break to spend some time offline, we'll re-group each night for a Henry A. Holt Barn Virtual Reading, where we'll honor the spirit of the Henry A. Holt Barn at the Frost Place by hearing the work of faculty and participants, as well as a Robert Frost poem read by a special guest.
We'll also have some of the events that have brought past participants closer together: morning sessions on Frost and publishing, a special visit with a Franconia artisan, a literary game night, and an online dance party.
---
July 5-10, 2020 | Apply Now!
The application deadline is July 1, 2020. All requests for scholarships must be received by June 25, 2020.