Freedom and Form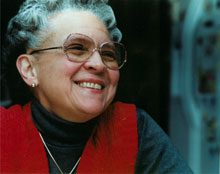 Rhina P. Espaillat
Rhina P. Espaillat has published ten full-length books and three chapbooks, comprising poetry, essays, and short stories, in both English and her native Spanish, and translations from and into both languages. Her work appears in many journals, anthologies, and websites, and has earned national and international awards, including the T. S. Eliot Prize in Poetry, the Richard Wilbur Award, the Howard Nemerov Prize, the May Sarton Award, the Robert Frost "Tree at My Window" Prize for translation, several honors from the New England Poetry Club, the Poetry Society of America, the Ministry of Culture of the Dominican Republic, and a Lifetime Achievement Award from Salem State College. Espaillat's most recent publications are two poetry collection in English titled Playing at Stillness and Her Place in These Designs; a book of Spanish translations titled Oscura fruta/Dark Berries: Forty-Two Poems by Richard Wilbur; and a book of Spanish translations titled Algo hay que no es amigo de los muros/Something There Is That Doesn't Love a Wall: Forty Poems by Robert Frost. She is a frequent reader, speaker and workshop leader, and is active with the Powow River Poets, a literary group she cofounded in 1992.
Formalist Track: Freedom and Form
Form is enjoying a robust comeback, with poets writing now not just in received forms like sonnets, villanelles, sestinas, ghazals, haiku, tanka (as well as free verse, itself a form), but also in a broad array of exciting new forms including golden shovels, bops, duplexes, syncopated sonnets, and more.
At the Poetry Seminar, we're interested in form as a way to connect contemporary poets with the most ancient tools of our art, and especially with form's flexibility to be adapted in ways that only the future can imagine.
When we look around now, we see form being used in exciting new ways to challenge political and other assumptions and, it turns out, as a tool that can be used not just to dismantle the Master's House, but also to build a new house—maybe, even, to radically reconceive the notion of what a house is.
Our models will include older examples, but will emphasize contemporary and diverse poets such as Victoria Chang, Rhina P. Espaillat, Terrance Hayes, Tyehimba Jess, Marilyn Nelson, Patricia Smith, Diane Suess, AE Stallings, Michael Afaa Weaver, and others. 
Maybe you'd like to learn the forms so you can break them, or skew them, or critique them?
Or maybe you're less interested in writing in forms than in building skill with the craft techniques they employ—tools like rhyme and meter, useful in writing any kind of poetry.
Or maybe you don't know much about formal poetry and just want to learn more?
If so, our new track, "Form and Freedom," is for you. It's a conference-within-a-conference, with all the Poetry Seminar benefits—faculty craft presentations, evening readings, delicious and healthy communal meals, a gorgeous natural setting in the White Mountains, an opportunity to work and read where Robert Frost lived, and ongoing conversation about our shared love for poetry.
But this workshop will also offer you the opportunity to focus on form in your own workshop, working with like-minded poets who might answer yes to any of the questions above.
Workshop Details: In the month before the Seminar begins, Director Patrick Donnelly will be in touch to request from each participant four poems for workshop and two for one-on-one faculty conferences; these will be shared with the workshop leader and with everyone in the workshop. This will allow everyone plenty of time to prepare feedback on the poems. We encourage "Freedom and Form" participants to submit poems attentive to some element of form.
Return to the Poetry Seminar Page.
The opportunity to discuss a full-length manuscript is also available.
| | |
| --- | --- |
| Poetry Seminar Details | Faculty & Fellows |
| | |