History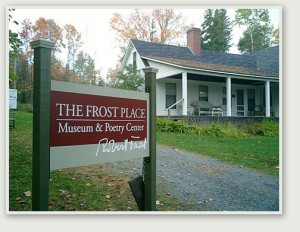 The Frost Place is a nonprofit educational center for poetry and the arts based at Robert Frost's old homestead, which is owned by the town of Franconia, New Hampshire.
The Frost Place was founded in 1976 when town moderator David Schaffer requested $5,000 to hold the home for purchase by the town. The farmhouse is where Robert Frost and his family lived full-time from 1915 to 1920 and spent nineteen summers. A board of trustees was given responsibility for management of the house and its associated programs, and from 1977 through 2005 teacher and scholar Donald Sheehan served as executive director. In 2010 the trustees appointed poet Maudelle Driskell as Sheehan's successor.
Since 1977, The Frost Place has awarded a fellowship each summer to an emerging American poet, including a cash stipend and the opportunity to live and write in the house for several months. In addition, The Frost Place has sponsored an annual Festival and Conference on Poetry for writers seeking classes and workshops with a faculty of illustrious poets, a teachers' conference, and an advanced seminar.
So here the great man stood,

fermenting malice and poems

we have to be nearly as fierce

against ourselves as he

not to misread by their disguises.

-William Matthews, former resident poet, from "On the Porch of The Frost Place, Franconia, N.H."
Robert Frost and The Frost Place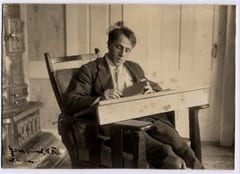 "Frost first discovered this area of the White Mountains when he came there to seek relief from hay fever. He brought his family there and they fell in love with the area. The Frosts first rented rooms from the Irish farmer John Lynch in the late summer of 1907 outside of Bethlehem, N.H. Frost wrote to his friend and early editor Susan Hayes Ward, who had visited the family there, of the time spent at Bethlehem: 'How long ago and far away Bethlehem is already. Our summer was one of the pleasantest we have had for years… There is a pang there that makes poetry.'
Frost had returned from England and had grown romantic for New Hampshire and New England. He was searching for a farm in the Franconia area that had a view. He happened on one farm that he liked but it wasn't for sale. The owner of the farm Willis E. Herbert was outside and the two men began a conversation. Herbert happened to be looking for more land and if Frost could pay a thousand dollars for the farm then he would be willing to sell it.
Frost showed the house to his family and they all agreed and he shook hands with Herbert on the price of a thousand. It wasn't until Herbert began to see Frost's picture in the papers that he decided a thousand was too fair a price for Frost to pay and he should pay one or two more hundred for the farm. Frost agreed and the family moved in June of 1915."
— Francis McGovern, from literarytraveler.com